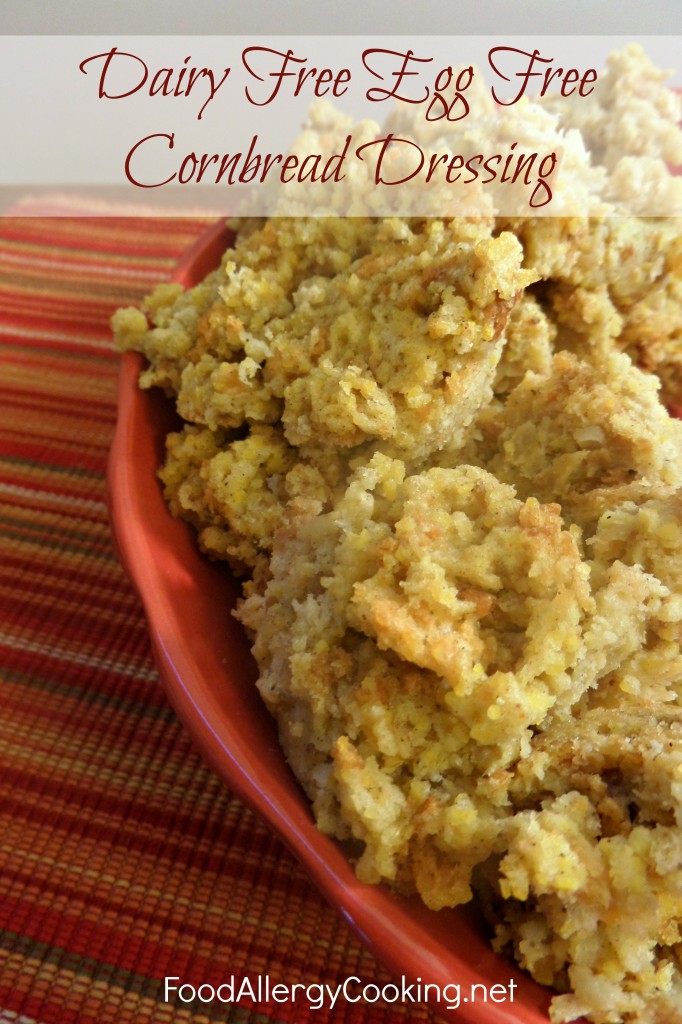 I can honestly say I have tried for years to make Cornbread Dressing like my grandmother makes it.  She always cooks the dressing for our Thanksgiving meal and it is SO GOOD!  However, it has eggs in it and the cornbread is made with eggs and buttermilk so my son with the dairy and egg allergy is stuck eating my alternative which up to this point has not been very good.
That all changes this year.  I have finally found a great recipe that is delicious!  Really!  I made it this weekend for our church's Thanksgiving dinner and it actually received compliments.  No-one could tell the difference, and my food allergy kiddo was able to experience Thanksgiving Cornbread dressing as it is supposed to taste.  It was moist and flavorful, and I will be making it again later this week because the first batch is long gone – yep we gobbled it up because it was so good!
I used Southern Plate's Crockpot Cornbread Dressing Recipe and adapted to make it dairy and egg free.  Here's how you can do it:
First – Make the Cornbread
Use your own dairy free/egg free recipe OR Follow a traditional cornbread recipe with the following modifications:
Use a dairy free margarine
Replace the buttermilk with a milk alternative like soy milk or coconut milk PLUS add a tbsp of Vinegar to sour it (makes "buttermilk).  Let it sit for a minute before adding to mixture.
Skip the egg. (trust me it'll be ok).  Alternatively you can use egg replacer, but I just skip the egg & it's fine.
Second – Dairy Free Cream of Chicken Soup
Dairy Free Cream of Chicken Soup Recipe
Third – You'll also need some turkey or chicken meat.
This is optional, but it's really great if you add it.  I just used Boneless Skinless Chicken breast in mine.
Dairy Free Egg Free Cornbread Dressing
Ingredients
Cream of Chicken Soup (Equivalent to 2 cans)
2 Cups Shredded Chicken or Turkey(Optional)
9x13 pan of Cornbread Crumbled (I used the Vitamix & it worked perfectly.)
Celery Stalk (Chopped Small)
Onion (Chopped Small)
3 1/2 Cups Chicken Broth
1/2 Cup Dairy Free Margarine
2 Tbsp Sage
Instructions
For Oven:
Mix all ingredient Together in large baking Dish. Note: If it's way too runny add a few crumbled slices of bread.
Bake at 375 degrees for 30 minutes or until baked through.
For Crockpot:
Cover Bottom of Pot with 1 cup Cream of Chicken Soup
Set aside turkey or chicken and another cup of soup
Mix all other ingredients together in a large bowl.
Layer 1/3 of the dressing mixture on top of soup.
Add half of the chicken/turkey
Add another layer of Dressing Mixture
Add Remaining chicken/turkey
Add Remaining Dressing Mixture
Spread last cup of soup over the top
Cook on low for 2 hours, then turn up to high for the 3rd hour.
Enjoy!
http://www.foodallergycooking.net/dairy-free-egg-free-cornbread-dressing/