We were so excited a couple of years ago to find that one of our two food allergy kiddos had outgrown his tree nut allergies including almonds! This opened up doors for many foods he has never been able to enjoy.
However, you can't just willy nilly grab a pack of almonds off the shelf & hand it to your food allergy kiddo if they have other allergies because MOST packaged almonds also contain a peanut warning & are rarely made in a peanut free facility. Blue Diamond is one of our go-to almonds because they have clearly labeled on the package that they are made in a peanut free facility. I am so excited to see this great deal on the big bags.
NOTE: These almonds are only peanut free, NOT tree nut free obviously so if you have other tree nut allergens you will need to avoid these too.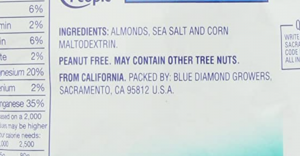 Check it out:
Blue Diamond Almonds is currently having a  sale on a 1lb bag of their almonds for only $5.71. Pretty great, right? If you want to take part of this deal just click this link below to find your next bag of Blue Diamond Almonds!
1lb bag of Blue Diamond Almonds
DISCLAIMER:  As an Amazon Associate I earn from qualifying purchases.