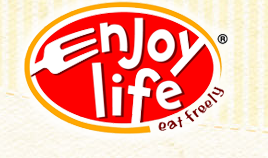 Enjoy Life is one of my very favorite companies! I love that all of my kids can safely eat ANY of their products.  I also love to cook with their Chocolate Chips.
You guys mentioned that you would like to see more food allergy friendly deals and coupons on this site so — here ya go!  I just got these great coupons in my inbox:
Get a coupon here for $0.55 off any Enjoy Life Product
Also get a coupon for $0.75/1 Enjoy Life Plentils Lentil Chips
The Plentils are new & I haven't seen them in my stores yet, but I'll have to try them.  Has anyone else tried them?
Deal Alert
The Enjoy life baked cookies & bars are on sale at Winn Dixie until 10/20 so if you have one nearby you can get a SWEET deal – $2.95 per box after the coupon!
What's your favorite Enjoy Life Product? Ours is definitely the chocolate chips & chunks.