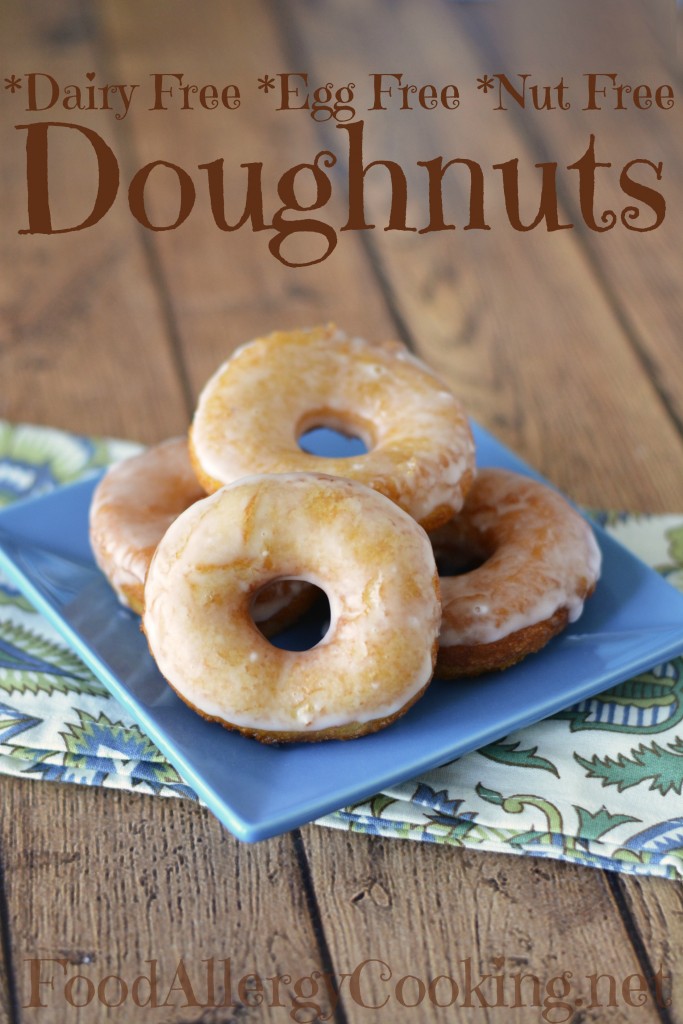 Every child should have a doughnut every now and then! Or is it donut?  According to the googles, both ways of spelling are ok so I will just mix it up a little. 🙂  I am always looking for new ways to make treats for all my kiddos, and I have been looking for a good donut recipe to try.  I remembered back in home-ec class during high school when we learned how to make biscuit dough.  Then they taught us how to make other things using that dough like cinnamon rolls and…Donuts!!  I decided to give it a try, but I really didn't have time to roll and knead dough so I pulled out the canned biscuits.  It was quick, easy, and SOOOOO delicious!  I used can biscuits from Aldi which don't have eggs or milk.  Make sure you read the entire package though because many of them do have milk.  Enjoy!
| | |
| --- | --- |
| Dairy Free Egg Free Donuts with Sugar Glaze | |
Author:
These donuts are great for a special treat or even for breakfast. My kiddos love them and I love being able to treat my food allergic kiddos to something they can't normally have, and these are SO Easy!
Ingredients
Canned Biscuits (Read the label to find some that do not contain dairy or egg). Most do contain wheat or so so you'd have to find an alternative if you avoid those allergens).
2 Cups Oil , any will do – I use Coconut Oil
For Glaze:
1 Cup water
2 Cups Sugar
Instructions
Put Oil in Large Skillet and turn to medium high
Spread Biscuits out on Cutting Board
Make holes in biscuits – I used an apple corer to make them, but you can use whatever you have around.
Add Donuts to heated oil(make sure at least half the donut is submersed.
Fry in oil until browned(less than a minute- Watch them closely or they will burn)
Turn over and brown the other side
Remove from skillet.
To Make Glaze:
Add water to Saucepan, bring to a boil
Turn down heat and add sugar
stir frequently until you have a syrupy texture.
Dip donuts in Glaze with tongs(fully submerge).
Set on Cookie sheet to cool
Enjoy!