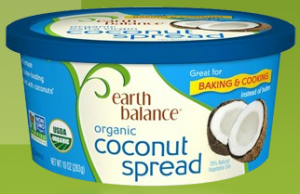 I made a trip to Whole Foods last week & saw this new product.  I grabbed a pack to try out, but I sure wish I had see this coupon first.
We use Coconut Oil for baking in alot of recipes, but I can't wait to try this product out!  It is dairy free and much healthier than our usual Dairy Free Margarine that I use(Parkay Squeeze).
Get a coupon here for $1/1 Earth Balance Organic Coconut Spread.