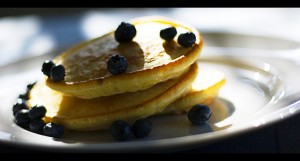 It literally took years to find a good recipe for pancakes that my whole family can eat.  I tried making regular pancakes with egg replacer as well as many other recipes, but none were good enough that we just loved them.  I stumbled across this one from Food Allergy Mamaone day and it has been my go to recipe ever since.
My Whole Family loves this recipe for Warm Dairy, Egg, and Nut Free Pancakes.  I use soy milk in the recipe, and also substitute Coconut Oil for the vegetable oil.  These freeze well also.  I always make extra so we can have them twice without all the fuss.
These are so good, and you can add blueberries or dairy free chocolate chips to give them a great flavor!