May 11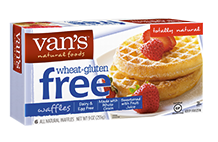 I love to have these on hand in the freezer to use in a pinch. My boy who is allergic to milk and eggs can usually never have freezer waffles unless I make them myself.  Van's Gluten Free is the only brand I've found that don't contain milk or eggs so they're safe for him.
Right  now you can get them for only $0.50 at Target!  Here's the deal:
Van's Waffles are on sale for $2.50 at Target.
Pay only $.50 for the waffles
Great deal!  Be sure to read the package ingredients to make certain you're getting the allergy friendly ones.  Some Van's waffles contain allergens.
Thanks All Things Target!
Read More